Insight for Living
with Chuck Swindoll
Extravagant Love on Everlasting Display, Part 3
Monday, March 27, 2023
Certain scenes in the Scriptures seem too significant—too deeply personal—to casually gloss over, such as some of the psalms of lament, certain prayers, and stirring scenes of worship. Likewise, this passage in Mark 14 serves as a treasure worth pondering. With respectful awe, Pastor Chuck Swindoll takes a close look at one of the most moving scenes in the Gospels—Mary anointing Jesus with precious perfume. Learn from Mary's example about the eternal value of loving acting with extravagant love, no matter the cost.
Recent Broadcasts
Featured Offer from Insight for Living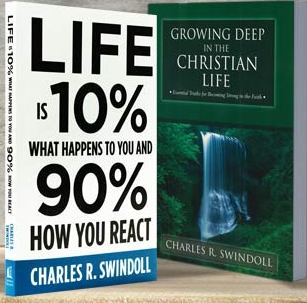 This Month's Featured Resources
Featuring books for your permanent bookshelf from Charles R. Swindoll: Life Is 10% What Happens to You and 90% How You React - softcover book, and Growing Deep in the Christian Life: Essential Truths for Becoming Strong in the Faith.