Insight for Living
with Chuck Swindoll
God's Light and Our Blight, Part 1
Friday, June 5, 2020
It's difficult to have a deep relationship with someone we don't know. So how can we expect to enjoy a satisfying relationship with God if we don't know much about Him? John wrote, "God is Light, and in Him there is no darkness at all." Just what does that mean? Today Chuck Swindoll helps us understand an attribute of God that will deepen our respect for Him.
Recent Broadcasts
Featured Offer from Insight for Living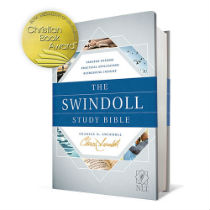 The Swindoll Study Bible
Chuck's warm, personal style comes across on every page, and his informed, practical insights get straight to the heart of the Bible's message for the world today. Reading each part of this study Bible is like hearing Chuck speak God's Word directly to your heart. It will both encourage readers' faith and draw them deeper into the study of God's Word.