Insight for Living
with Chuck Swindoll
Living Right in a Wrong World, Part 2
Friday, May 29, 2020
It's not easy living a godly lifestyle in a world that's going in the opposite direction. And that's the direction that John found the church moving toward as erosion had set in beside a subtle, lethargic boredom. The excitement modeled by those early followers of Jesus was being forgotten by second- and third-generation Christians. John's pen set out to change that!
Recent Broadcasts
Featured Offer from Insight for Living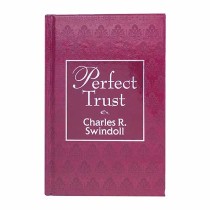 Help in Times of Need
Our culture and our own nature tell us to grab life by the throat and rely only on ourselves. But when adversity, disappointment, and despair knock us down, we have to admit that we are not in control. Pick up Perfect Trust today, and be reminded that when our world falls apart, we really can trust God.