Insight for Living
with Chuck Swindoll
On the Trail of a Traitor, Part 3
Thursday, March 30, 2023
Betrayal. Few experiences are harder to endure. This is especially true when the one who causes the hurt is in your closest circle. The Bible speaks much about betrayal—of those betrayed as well as betrayers. No one can understand being forsaken more than Jesus, and no one in the Scriptures is more remembered for his personal treason than Judas Iscariot. Join Pastor Chuck Swindoll as he gleans timely truths from Judas' betrayal of Jesus and offers words of wisdom for your relationships with others.
Recent Broadcasts
Featured Offer from Insight for Living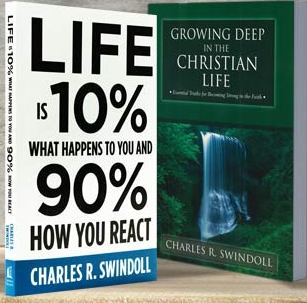 This Month's Featured Resources
Featuring books for your permanent bookshelf from Charles R. Swindoll: Life Is 10% What Happens to You and 90% How You React - softcover book, and Growing Deep in the Christian Life: Essential Truths for Becoming Strong in the Faith.