Insight for Living
with Chuck Swindoll
Suggestions for Parenting Grown-Up Kids, Part 3
Friday, May 22, 2020
Chuck Swindoll has cited the progression parents feel over the span of their child-rearing years. When the kids are young, it seems so simple. Then, in the teen years, providing leadership gets more complicated. But when our sons and daughters fly from the nest, we must learn how to relate to one another as adults. Parents need to know when to speak up and when to stay quiet.
Recent Broadcasts
Featured Offer from Insight for Living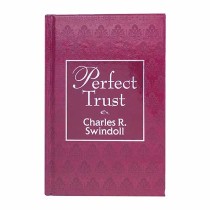 Help in Times of Need
Our culture and our own nature tell us to grab life by the throat and rely only on ourselves. But when adversity, disappointment, and despair knock us down, we have to admit that we are not in control. Pick up Perfect Trust today, and be reminded that when our world falls apart, we really can trust God.