Insight for Living
with Chuck Swindoll
What to Do When You've Blown It, Part 3
Wednesday, May 27, 2020
We've come to the end of this series. It's been a journey of discovery for many. We've probed Scripture from start to finish to find out what God says about this all-important subject related to vital relationships within the home and family. We've covered everything from the embryo in the womb to parenting grown kids, while relying on God's Word to guide our thinking.
Recent Broadcasts
Featured Offer from Insight for Living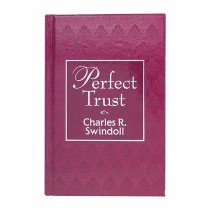 Help in Times of Need
Our culture and our own nature tell us to grab life by the throat and rely only on ourselves. But when adversity, disappointment, and despair knock us down, we have to admit that we are not in control. Pick up Perfect Trust today, and be reminded that when our world falls apart, we really can trust God.