Insights on Marriage and Divorce
with Chuck Swindoll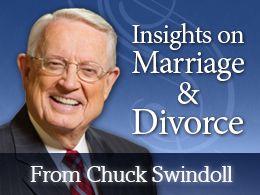 Staying Young As Your Family Grows Older, Part 1
Sunday, November 19, 2023
Caleb continues to be a prime example of how to take on life with a great attitude. At the ripe, young age of 85, he was alert, motivated, positive, and eager to undertake any endeavor. We find in Caleb no less than three specific attitude choices that will keep a marriage youthful even as we grow older.
Recent Broadcasts
Featured Offer from Insights on Marriage and Divorce

Symphony of Survival
Until death do us part."
Anyone married will tell you this vow of lifelong commitment is much easier said than done. Every marriage encounters unforeseen obstacles and challenges that threaten its survival. This booklet from Chuck Swindoll will teach you profound truths about commitment and show you where true hope for every marriage begins—in a right relationship with Jesus Christ.
42-page booklet