Jewish Voice
with Jonathan Bernis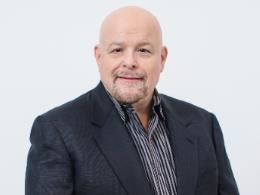 The Harbinger II, Part 2
Sunday, September 6, 2020
To support this ministry financially, visit: https://www.lightsource.com/donate/1153/29Jonathan Bernis welcomes back New York best-selling author Jonathan Cahn to continue their fascinating conversation about current conditions in America and the entire world and how theydirectly relate to both Bible prophecy and your calling during this unprecedented time in history. Join them as they dive back into the mysteries revealed inThe Harbinger II: The Return, Rabbi Cahns newest book and the sequel to his best seller,The Harbinger. With crises unfolding every day, many Christians want to know if they are signs of the End Times and if so, how much time do we have left? Discover if America is closer to the judgment referred to in prophetic Scriptures and how to find hope in these challenging times. As Rabbis Bernis and Cahn boldly address some hard-hitting issues present in our culture, youll get a fresh look at the relationship between humanitys rebellion and Gods Word. With the upcoming political elections, you wont want to miss this powerful discussion to help you connect what the Scriptures reveal, find hope and understand why your role is critical in these unparalleled days.
Recent Broadcasts
Featured Offer from Jewish Voice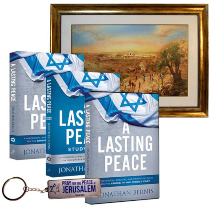 A Lasting Peace Book, Study Guide, Wall Art, DVD, and Israel Keychain
Stand with Israel Keychain: This little keychain is packed with purpose. One side displays the Israeli flag and the words "I stand with Israel" while the reverse bears Scripture's command to pray for the peace of Jerusalem (Psalm 122:6). Each time you handle your keys, you'll be reminded of God's love for Israel and the importance of supporting her. The JVMI logo represents the ripe spiritual harvest Jesus spoke of and calls to mind the vision you share with Jewish Voice: to transform lives and see all Israel saved. No matter which side shows, you'll testify to God's heart for Israel, encouraging yourself and inspiring others. The sleek design is approximately 2.5" x 1.5" to fit nicely in pocket or purse. A Lasting Peace, book by Jonathan Bernis: A Lasting Peace is an up-to-date look at Israel and the conflict in the Middle East. Rabbi Jonathan Bernis sorts out the complexities to offer a clear understanding of the history and players involved in the unrest surrounding Israel today. From ancient history to current events, A Lasting Peace traces the participation of surrounding nations and terror groups in the ongoing strife between Arabs and Israel. Bernis uncovers the truth about the Palestinian refugee problem and explains the biases behind Israel's struggle with United Nations. You'll also learn about the Arab war against Christians and the impact of U.S. recognition of Jerusalem as the capital of Israel. The Middle East is a hotbed of hostility with Israel in the crosshairs. With a growing but uninformed animosity toward Israel spreading throughout the world, grasping the full picture of the Middle East conflict is more important than ever. A Lasting Peace, Study Guide by Jonathan Bernis: One of the most important ways we can work to build a lasting peace in the Middle East is to take time to look beyond propaganda and learn what is really happening there. This guide – designed to be used in conjunction with the book, A Lasting Peace – will help you study and understand the full story and context of what has led to the current situation in the Middle East ‒ and how we can respond to the conflict. In six lessons, we'll examine the key Middle East players, the history of Zionism, the groups fomenting Islamic radicalism, and how conditions in the region are currently affecting Jews and Christians. We'll also look at what the Bible has to say about how we can bless Israel and work for peace in a region that has been marred for so long by conflict.  Each lesson includes questions based directly on the book, topics for discussion, and space for recording your thoughts and answers. A Lasting Peace, DVD by Jonathan Bernis: In today's world, grasping the full picture of the Middle East conflict is more important than ever. Rabbi Jonathan Bernis gives an up-to-date explanation of the complexities of the Middle East conflict in this DVD based on his book, A Lasting Peace. With bonus content not found in the book, Rabbi Bernis offers a clear understanding of the history and key players and explains how we can and should respond as Believers. Going up to Jerusalem – Framed Art: Jerusalem – the holy city of God – sits elevated above the surrounding terrain. Jewish people went up to Jerusalem to make sacrifices at the Temple and observe the Feasts. The journey itself was often filled with worship. This beautiful print depicts travelers praising their way to the Holy Temple. The antique-gold-finished frame includes a black inner rim adorned with gold dots, contributing detail and elegance to the overall presentation. This lovely piece of art would make a fine gift or look stunning in your own home or office. Framed are is 14.5" x 19.5" x 2".