Leading The Way
with Dr. Michael Youssef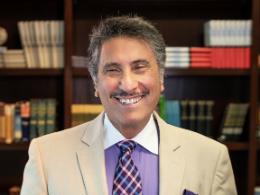 Back to the Future, Part 3
Thursday, February 21, 2019
Today on Leading The Way: Dr. Youssef continues his series, Back To The Future – see life today vividly described in the pages of the Bible!
Recent Broadcasts
Featured Offer from Leading The Way

DR. MICHAEL YOUSSEF'S NEW BOOK AVAILABLE FOR PRE-ORDER (THE THIRD JIHAD)
Under our culture's politically correct radar, Islamists are infiltrating our communities, schools, and governments. They call their plan the Third Jihad—but the weapons of their warfare are not what you think. Request your copy of Dr. Youssef's new book The Third Jihad today for your gift of any amount—and learn how to fight back with the weapon of informed love. When you pre-order The Third Jihad, you'll also receive a FREE copy of Dr. Youssef's Understanding and Responding to Islam message on CD. Give a gift of $100 or more, and you'll also receive the audiobook.