Leading The Way
with Dr. Michael Youssef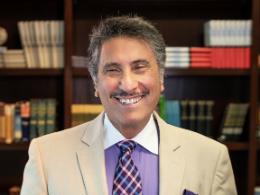 Call on Me on Behalf of Your Family
Friday, January 11, 2019
Today on Leading The Way, Dr. Michael Youssef reminds you that prayer is a way to instill faith and values into the lives of those in your family!  Join him! 
Recent Broadcasts
Featured Offer from Leading The Way

Become a Frontline Mission Partner
Are you looking for ways to make an impact for Christ in the new year? Become a monthly Frontline Mission Partner with Leading The Way, and join us in sharing the Good News of Jesus daily all over the world, even in closed countries in remote regions; serving on the frontlines alongside our field ministry teams as they disciple our listeners and viewers; and helping Christians grow in their faith. Upon sign-up you'll receive: A FREE copy of Dr. Michael Youssef's DVD series Truth: The Most Endangered Species. Plus, when you sign up by credit card, you'll receive 20% off all resources in our online store and a FREE copy of Dr. Youssef's latest book upon request. You can make an eternal difference in millions of lives by consistently supporting Biblical teaching programs, personal discipleship, and more.