Leading The Way
with Dr. Michael Youssef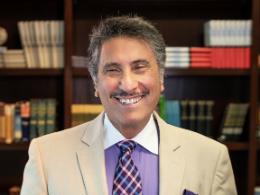 Reveling in the Real Fountain of Youth
Thursday, October 11, 2018
On the next Leading The Way, Dr. Michael Youssef challenges you to experience a passion for God, such that the 'ordinary' things of life become extra-ordinary!  
Recent Broadcasts
Featured Offer from Leading The Way

PARTNER WITH US FOR VISION 2025
Today, there is a vast need for the Gospel not only in closed countries and remote regions, but right here at home. The eternal fate of billions of souls hangs in the balance. Who will reach them? With 30 years of ministry behind us and the strong foundation of God's Word beneath us, Dr. Michael Youssef and Leading The Way are doubling down to reach as many souls for Christ as possible by 2025. Vision 2025 is Leading The Way's plan for ministry expansion—a prayerful outline of seven goals for the next seven years of Gospel ministry with the ultimate goal of seeing one million souls come to Christ by 2025.