Leading The Way
with Dr. Michael Youssef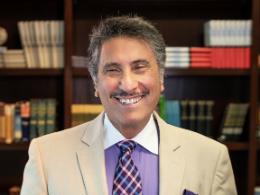 The Magnificat
Friday, December 7, 2018
Make it a point to listen to the next Leading The Way with Dr. Michael Youssef!  He'll give you a deeper understanding of Mary, the Mother of Jesus.
Recent Broadcasts
Featured Offer from Leading The Way

December Gift Challenge
This month, generous partners have committed $1 million to Leading The Way, and we are challenging all our partners to help match their gifts. Join us as we boldly proclaim the Gospel through 24/7 broadcasting, disciple new believers in closed countries, and provide hope that is revolutionizing lives here at home and around the world. Consider a generous gift to Leading The Way this month, and join us in igniting a spiritual revival this Christmas.