From the MLJ Archive
with Dr. Martyn Lloyd-Jones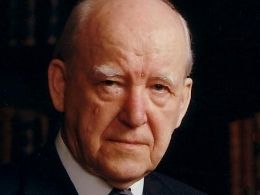 As in Adam; so in Christ
Sunday, June 14, 2020
Romans 5:12-21 - Sin destroys everything. It ruins relationships, perverts what is pure and undoes the underpinnings of society. In this passage, the Apostle Paul explains the effect of sin on the world and the salvation that Christ has brought from sin. Because of Adam's sin in the Garden of Eden, we all have sinned because we are all descendants of Adam. That guilt and condemnation is on all people. However, just as we are all related to Adam, we are all related to Jesus Christ! Dr. Martyn Lloyd-Jones argues that Romans 5:12 is one of the most important verses in the whole Bible in terms of theology. This verse confronts us with two facts: the universality of sin and the universality of death. Dr. Lloyd-Jones then goes on to explain the biblical and non-biblical view of this passage. It would be easy to create excuses for sin or to become angry that we are all guilty because Adam is guilty, but the passage clearly points out that sin is active and so now there is death by sin. Instead of condemning our sin that Adam passed to us, we should be rejoicing that Christ's work on the cross has also passed to all of us!
Recent Broadcasts
Featured Offer from From the MLJ Archive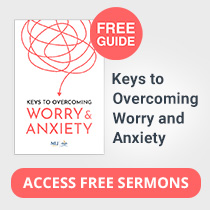 FREE GUIDE: 7 Keys to Overcoming Worry and Anxiety
Your free guide includes 7 complimentary sermons like: Worry and Anxiety, My Peace I Give to You, The Unsearchable Riches of Christ, Attacks on Assurance, Be Strong in the Lord, God and the Ideas of Man, and The Spirit of Bondage.