From the MLJ Archive
with Dr. Martyn Lloyd-Jones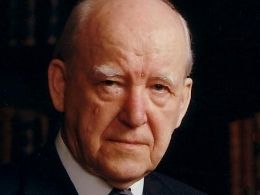 Christ's Death Unto Sin
Sunday, September 13, 2020
Romans 6:8-10 - For once, stop thinking of yourself. This is what Dr. Martyn Lloyd-Jones encourages the listener to do as he outlines Romans 6:8-10. So often, Christians feel like they must continually die to their old self repeatedly. This means they have not fully grasped the immense truth that our old self was crucified with Christ and is gone! We no longer need to think of our struggles, downfalls, and constant failures. Paul is emphasizing once more that what happened to Christ has also happened to us! Thus, we are to live after God, not in a future sense but in a present sense. Sin once had dominion over Christ, because death is caused by sin. Christ died unto sin but he also resurrected, which means He conquered the dominion of sin. This act happened one time, once and forever. The Doctor shows us that this means we have full assurance in our salvation and the truth that our old self is gone. The resurrection proves that the law was satisfied and thus we are no longer under any reign of sin!
Recent Broadcasts
Featured Offer from From the MLJ Archive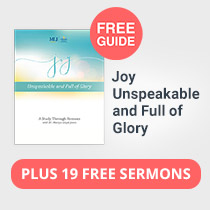 FREE GUIDE & SERMONS: Joy Unspeakable and Full of Glory
Your new free guide includes 19 complimentary sermons like: Not Ashamed of the Gospel, Standing in Grace, Glory in Tribulation, Glorying in God, Dead to Sin; Alive to God, Mind; Heart and Will, Life in the Spirit, Faith and Joy, Real Christianity? - the Test, and At Peace With God.