From the MLJ Archive
with Dr. Martyn Lloyd-Jones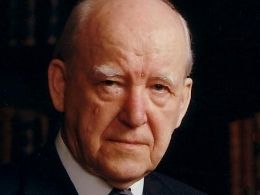 In the Spirit or in the Flesh?
Sunday, January 17, 2021
Romans 7:6 - What does it mean to be in the Spirit? If you listen to this sermon on Romans 7:6, you will see that it means that you live in a totally new way than before. Dr. Martyn Lloyd-Jones says that to be in the Spirit is to live in Christ, being renewed daily in His power. He contrasts the new life with the old life of sin and bondage under the Law. The Law was good, but because of human sin and depravity, it brought only condemnation. Jesus is better than the Law! Jesus died for us and makes us new creatures in Christ, if we believe in His Gospel. Jesus brings commandments that are not burdensome, but rather, they are freeing. The glory of this new life is that it is one that we live in the Holy Spirit as Children of God. We are no longer slaves to sin and immorality. The most important question then is, how does one live this life? The answer is by believing in the Gospel of Christ, by believing in His death, burial, and resurrection as the only means of salvation and peace with God. This message is the only way of true peace and joy with God. 
Recent Broadcasts
Featured Offer from From the MLJ Archive