From the MLJ Archive
with Dr. Martyn Lloyd-Jones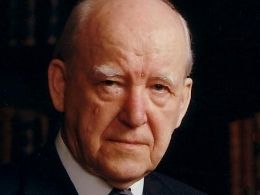 No More in Realm of Sin and Death
Sunday, September 20, 2020
Romans 6:10-11 - When Christ prayed in the Garden of Gethsemane and felt that anguish, it was because He knew that the crucifixion would cut Him off from the realm of God and He wanted to be spared of it. However, Christ came as a volunteer to earth and by His grace, Jesus also prayed that the Lord's will would be done and He would be restored back to that realm of God. Christ died once unto sin and He is finished with sin once and for all. Dr. Martyn Lloyd-Jones outlines this in his sermon on Romans 6:10-11. Christ came out of glory only once, but He did so for our sake. Now that Paul has finished emphasizing this point, he moves on to how we can apply this truth to our lives. The Doctor notes that we have been told the truth about ourselves repeatedly up until this point, but now Paul wants us to reckon this truth unto ourselves. The Doctor then goes on to explain three principles that we must bear in mind about these truths. He also explains the meaning and application of the word "reckon." Therefore, may we reckon these truths unto ourselves day by day and live in thankfulness to the God who conquered sin and death!
Recent Broadcasts
Featured Offer from From the MLJ Archive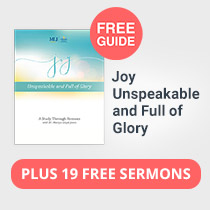 FREE GUIDE & SERMONS: Joy Unspeakable and Full of Glory
Your new free guide includes 19 complimentary sermons like: Not Ashamed of the Gospel, Standing in Grace, Glory in Tribulation, Glorying in God, Dead to Sin; Alive to God, Mind; Heart and Will, Life in the Spirit, Faith and Joy, Real Christianity? - the Test, and At Peace With God.