From the MLJ Archive
with Dr. Martyn Lloyd-Jones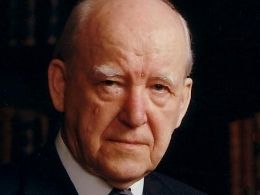 Propitiation
Sunday, December 15, 2019
Romans 3:25 - Jesus saves sinners! But how are we redeemed in Christ and why did it have to happen in that way? In Romans 3:25, Paul says that God was a "propitiation" for our sins in order to declare His righteousness to us. Dr. Martyn Lloyd-Jones explains that this word means to appease and avert anger or wrath. The cross of Jesus Christ was needed to appease God's wrath. Propitiation implies four things: an offense to be taken away, an offended person who needs to be pacified, a guilty person, and a sacrifice of making atone for the offense. Also in this message, Dr. Lloyd-Jones warns about various translations of the Bible. Many who have translated this specific passage have misplaced the word "propitiation" with "expiation," giving the verse a completely different context. This happens because personal prejudices can sway the translations. In either case, it is to be clear that the Lord cannot have a personal relationship with man when there is sin present. This is the reason that Christ had to be the ultimate sacrifice to pay the atonement for our sins.
Recent Broadcasts
Featured Offer from From the MLJ Archive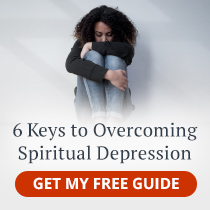 FREE GUIDE: 6 Keys to Overcoming Spiritual Depression
Find peace and comfort this season with your complimentary guide that includes access to 6 free bonus sermons on overcoming spiritual depression from Dr. Martyn Lloyd-Jones, one of the church's most beloved Bible teachers. Topics include: true Christians can and do struggle with depression, recovering the joy of your salvation, dealing with crippling guilt over past sins, dealing with yesterday's haunting regrets, encouragement to keep moving forward, and understanding God's purpose for suffering.