From the MLJ Archive
with Dr. Martyn Lloyd-Jones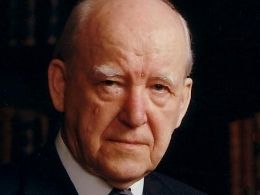 Servants of Righteousness
Sunday, October 18, 2020
Romans 6:18 - What does it mean to be a "slave to righteousness"? Paul explains in Romans 6:18 that we are no longer slaves to sin and that it has no power over us any longer. Instead, we are now slaves to righteousness! Dr. Martyn Lloyd-Jones details out several truths that we can draw from this one verse. He is clear to point out that we are not saying that there is no sin left in us, that we are free from sinful nature, or that we are free from temptations. There is no choice in this matter of our sanctification because it starts the moment that we believe. Once we believe, our soul yearns with jealous envy for righteousness because we are drawn to the realm of God instead of the realm of sin. The Doctor also warns that many people can have qualities of a Christian but not hold the same doctrines. He mentions that the Pharisees were people like this, creating their own righteousness instead of submitting to God's righteousness. This practice is ignorant! A man does not understand what morality is and thus we need to lean on the Lord for wisdom. We can rejoice that the Lord who began a good work in us will be faithful to complete this work.
Recent Broadcasts
Featured Offer from From the MLJ Archive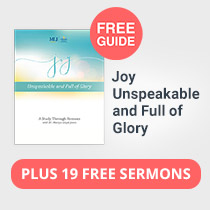 FREE GUIDE & SERMONS: Joy Unspeakable and Full of Glory
Your new free guide includes 19 complimentary sermons like: Not Ashamed of the Gospel, Standing in Grace, Glory in Tribulation, Glorying in God, Dead to Sin; Alive to God, Mind; Heart and Will, Life in the Spirit, Faith and Joy, Real Christianity? - the Test, and At Peace With God.