From the MLJ Archive
with Dr. Martyn Lloyd-Jones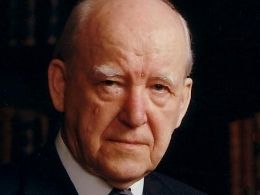 The Christian and God's Law
Sunday, November 22, 2020
Romans 7:1 - How do Christians relate to the Law of God? Since we are saved, can we actually keep the law? What happens when we fail? In this sermon, Dr. Martyn Lloyd-Jones shows us from Romans 7 a birds eye view of how Christians should view this controversial topic in this chapter of Scripture. According to Lloyd-Jones, most problems in the Christian life could be solved if we had a better understanding of Romans chapter 7. With a proper understanding of the teaching of this chapter, the Christian will have a better understanding of sin and it's severity. Lloyd-Jones states that sanctification by the law is just as impossible as salvation by the Law. According to Paul, the Law actually hinders sanctification. There is only one way to bring fruit before God, and that is if we are married and joined to Jesus Christ. When we understand the relationship of the Law to the Christian, it helps us understand that simple morality and ethical living are not sufficient for salvation or sanctification. One must be joined to Christ for salvation, not simply follow the Law. The Law shows us how sinful we are, but only Christ can save us by His perfect life and His perfect righteousness.
Recent Broadcasts
Featured Offer from From the MLJ Archive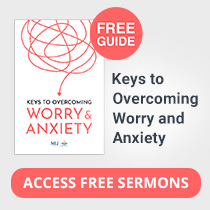 FREE GUIDE: 7 Keys to Overcoming Worry and Anxiety
Your free guide includes 7 complimentary sermons like: Worry and Anxiety, My Peace I Give to You, The Unsearchable Riches of Christ, Attacks on Assurance, Be Strong in the Lord, God and the Ideas of Man, and The Spirit of Bondage.