From the MLJ Archive
with Dr. Martyn Lloyd-Jones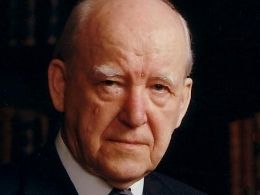 The Vindication of God
Sunday, January 5, 2020
Romans 3:25-26 - Perhaps no other theme is preached more often in evangelical churches than the cross of Christ. Evangelical Christians regularly sing songs and hymns of God's love and specifically, of the forgiveness found only at Calvary. What could be wrong with this? In this sermon, Dr. Martyn Lloyd-Jones expounds in great detail the cross of Christ. It is not so much what is said about the cross of Christ, but what is often neglected that Lloyd-Jones wants to address in this sermon. Evangelical Christians must never neglect the full doctrine of the atonement. We must not forget that the cross of Christ, not only displays the love of God, but also the justice of God. The atonement of Christ is where God indicates His holy name. At Calvary, the wrath of God is poured out against Sin and the righteousness of God is vindicated. Listen to this classic sermon by Lloyd-Jones on an often neglected attribute of God. See how God's character is much more than love. He is also Just and Righteous!
Recent Broadcasts
Featured Offer from From the MLJ Archive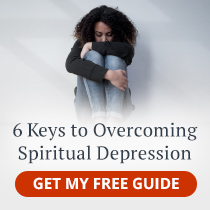 FREE GUIDE: 6 Keys to Overcoming Spiritual Depression
Find peace and comfort this season with your complimentary guide that includes access to 6 free bonus sermons on overcoming spiritual depression from Dr. Martyn Lloyd-Jones, one of the church's most beloved Bible teachers. Topics include: true Christians can and do struggle with depression, recovering the joy of your salvation, dealing with crippling guilt over past sins, dealing with yesterday's haunting regrets, encouragement to keep moving forward, and understanding God's purpose for suffering.