From the MLJ Archive
with Dr. Martyn Lloyd-Jones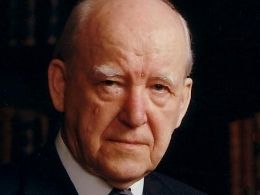 Union with Christ
Sunday, August 9, 2020
Romans 6:3 - Have you ever been confused or overwhelmed with the different views that surround baptism? Dr. Martyn Lloyd-Jones breaks down several thoughts or viewpoints concerning baptism including that Catholic and Protestant view. In addition, he also discusses several views within each belief. In Romans 6:3, it almost seems like Paul is stating that our baptism into Christ is baptism in His death like it is common knowledge. Dr. Lloyd-Jones warns that if you are stumbling over specifics in the varying viewpoints, that you could potential miss the glories that baptism represents. The most glorious aspect of baptism is that, as Christians, we are in Christ and He is in us. We were once in Adam and dead because of sin, but our union with Christ in His death, burial, and resurrection is shown through baptism. This means that our final salvation is guaranteed! So whatever viewpoint you hold, we must always acknowledge that we are very literally united with Christ and baptism shows our united nature with Him.
Recent Broadcasts
Featured Offer from From the MLJ Archive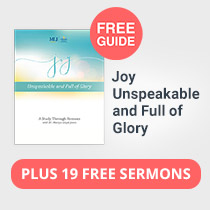 FREE GUIDE & SERMONS: Joy Unspeakable and Full of Glory
Your new free guide includes 19 complimentary sermons like: Not Ashamed of the Gospel, Standing in Grace, Glory in Tribulation, Glorying in God, Dead to Sin; Alive to God, Mind; Heart and Will, Life in the Spirit, Faith and Joy, Real Christianity? - the Test, and At Peace With God.