Living Oracles
with Roger Salter
Divine Ownership and Our Treasure
Sunday, September 22, 2019
In this comprehensive outburst of prayer David sums up many reasons in both God, and his actions, that are worthy of our whole-hearted praise. This wonderful God, David affirms, is the owner of everything.
Recent Broadcasts
Featured Offer from Living Oracles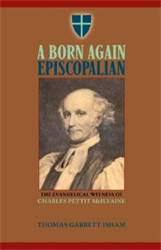 A Born Again Episcopalian
This superb biography of Charles Petit McIlvaine is exactly what is needed  at this time. Long overdue attention is at last given to one of the greatest and most gifted servants of Christ and country that this nation has produced. McIlvaine was a stalwart defender and advocate of Reformational orthodoxy in his day and an influence for righteousness and stability when the viability of the United States was in question. Restored to deserved prominence he can once again show the way to church and citizenry. The man himself is sympathetically and honestly portrayed with great pastoral benefit to those who read about him. The account of his faith and spiritual struggles is immensely encouraging. His efforts for the cause of Christ invigorate present day believers for the task at hand in contending for the truth of divine revelation.