Living Oracles
with Roger Salter
Pity and Promise
Sunday, May 19, 2019
Lord, sometimes we believe that our anguish moves to the extreme and we can scarcely bear it, and it seems as though it will be permanent and unrelieved. In the midst of our agonizing, Lord, we ask that we will always have that confidence in you; that, ultimately, deliverance will come - you will not fail us. And yet, so often, we have nothing to lean upon; neither feelings nor circumstances, but only the objective truth of your Word. And to trust your Word alone without supports is so difficult for us, O Lord. When we ask for faith, we are inviting testing. So Lord, as we do ask for the gift of faith, so we pray for the strength and resilliance to survive through the testings and temptations of life, and to certainly find with Job that we have a friend in our Redeemer, who never departs from us; who will uphold us and will withdraw us from the sufferings we endure. So, Lord, bless us now as we consider this word from Job. May we identify with him and may we also identify and trust in the one he called his deliverer. Bless us Lord, we pray. We are frail and we ask you to be gentle and tender towards us. In our saviour's name, Amen.
Recent Broadcasts
Featured Offer from Living Oracles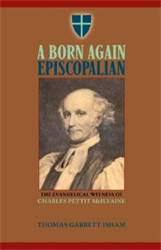 A Born Again Episcopalian
This superb biography of Charles Petit McIlvaine is exactly what is needed  at this time. Long overdue attention is at last given to one of the greatest and most gifted servants of Christ and country that this nation has produced. McIlvaine was a stalwart defender and advocate of Reformational orthodoxy in his day and an influence for righteousness and stability when the viability of the United States was in question. Restored to deserved prominence he can once again show the way to church and citizenry. The man himself is sympathetically and honestly portrayed with great pastoral benefit to those who read about him. The account of his faith and spiritual struggles is immensely encouraging. His efforts for the cause of Christ invigorate present day believers for the task at hand in contending for the truth of divine revelation.