Living Oracles
with Roger Salter
The Father's Seal of Approval
Sunday, March 31, 2019
I am the Bread of Life (John 6:35).   Jesus is the eternal and effective satisfaction of the human soul.  Human nature is hungry for a sense of inner repletion, fullness, and contentment.  Nothing physical, experiential, emotional, aesthetic, or intellectual can meet that constant yearning.  The world has no answer to our fundamental human desire.  Even our fondest desires meet with disappointment and our dearest pursuits.  All our appetites are fed with the bread that eventually spoils.  Without the sustenance and satisfaction that comes from heaven, embodied in Jesus Christ, the world itself becomes a veritable desert... and existence a wilderness. 
Recent Broadcasts
Featured Offer from Living Oracles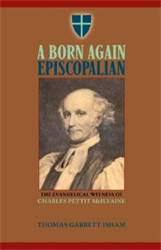 A Born Again Episcopalian
This superb biography of Charles Petit McIlvaine is exactly what is needed  at this time. Long overdue attention is at last given to one of the greatest and most gifted servants of Christ and country that this nation has produced. McIlvaine was a stalwart defender and advocate of Reformational orthodoxy in his day and an influence for righteousness and stability when the viability of the United States was in question. Restored to deserved prominence he can once again show the way to church and citizenry. The man himself is sympathetically and honestly portrayed with great pastoral benefit to those who read about him. The account of his faith and spiritual struggles is immensely encouraging. His efforts for the cause of Christ invigorate present day believers for the task at hand in contending for the truth of divine revelation.