Living Oracles
with Roger Salter
The Ravishing Core Doctrine of the Christian Faith
Sunday, June 16, 2019
The most engaging and exhilarating contemplation for the Christian mind is the mystery of the great Three-in- One. A mystery, not in the allegation that it does not make sense, but in the fact that the three-ness or plurality of God can only be known by revelation - his own self-disclosure. The reality of the Triunity of God is a matter of enabled spiritual observation, not of human discernment or acumen or impossible mathematical juggling. The One Lord manifests himself as Three: Father, Son, and Holy Spirit. Throughout the history of his Word, spoken to mankind via prophets, apostles and chosen witnesses, divine speech proclaims God as being internally, essentially, and by nature, a society of three members of the One Godhead, one Being diversified in three personal entities in harmonious communion, will, and action.
Recent Broadcasts
Featured Offer from Living Oracles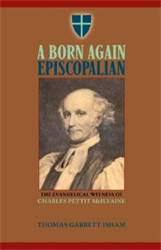 A Born Again Episcopalian
This superb biography of Charles Petit McIlvaine is exactly what is needed  at this time. Long overdue attention is at last given to one of the greatest and most gifted servants of Christ and country that this nation has produced. McIlvaine was a stalwart defender and advocate of Reformational orthodoxy in his day and an influence for righteousness and stability when the viability of the United States was in question. Restored to deserved prominence he can once again show the way to church and citizenry. The man himself is sympathetically and honestly portrayed with great pastoral benefit to those who read about him. The account of his faith and spiritual struggles is immensely encouraging. His efforts for the cause of Christ invigorate present day believers for the task at hand in contending for the truth of divine revelation.