Living Oracles
with Roger Salter
The Saviour Having Been Foretold
Sunday, November 17, 2019
The Bible in its entirety is the Book of Christ. The things averred by Isaiah about Jesus, for instance, are riddles that incite a sense of profound mystery and delicious intrigue. The Messianic figure is referred to as a shoot "that will come up from the stump of Jesse," the father of King David. The Christ will emerge from Royal background, and yet a Royalty that far exceeds mere earthly dignity. The human and divine natures of Israel's Redeemer are predicated in the One who is both the Base and the Branch of the Royal tree; its producer and product of the Lord's saving grace, the fruit of divvine efficiency. How beguiling this wondrous insight happens to be.
Recent Broadcasts
Featured Offer from Living Oracles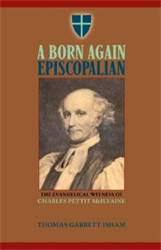 A Born Again Episcopalian
This superb biography of Charles Petit McIlvaine is exactly what is needed  at this time. Long overdue attention is at last given to one of the greatest and most gifted servants of Christ and country that this nation has produced. McIlvaine was a stalwart defender and advocate of Reformational orthodoxy in his day and an influence for righteousness and stability when the viability of the United States was in question. Restored to deserved prominence he can once again show the way to church and citizenry. The man himself is sympathetically and honestly portrayed with great pastoral benefit to those who read about him. The account of his faith and spiritual struggles is immensely encouraging. His efforts for the cause of Christ invigorate present day believers for the task at hand in contending for the truth of divine revelation.