Love Worth Finding
with Adrian Rogers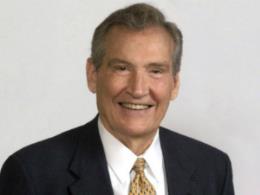 The Cross
Thursday, April 9, 2020
The Cross (1779)The cross of Jesus Christ is the cure for sin. 1 Peter 3:18 points out three truths about how God forgives and deals with sin through the cross.The very first truth is the vicarious suffering of the cross. The word vicarious means "in the place of another". 1 Peter 3:18 says, "For Christ also hath once suffered for sins, the just for the unjust...." Jesus, who is the just, sinless Son of God, died for the unjust, us. He became our substitute. He faced emotional and bodily suffering unlike anything we could possibly imagine.In the Old Testament, God instituted the ritual of the Passover Lamb. There was judgment upon the land because of sin, but God told His people to kill a perfect, spotless lamb. They were to take the blood of that lamb and put it upon the doorpost of their houses. 1 Peter 1:18-19 says, "For as much as ye know that ye were not redeemed with corruptible things, as silver and gold, from your vain conversation received by tradition from your fathers, but with the precious blood of Christ, as of a lamb without blemish and without spot..." Jesus' crucifixion bears symbolism of that of a Passover Lamb. Even then, God was using the Passover Lamb as a prophecy and a picture of the cross of Jesus Christ.Notice also the vital satisfaction of the cross. "For Christ also hath once suffered for sin...." Once; once for all. The debt has been paid in full. To say that there needs to be another sacrifice for sin is blasphemy. It is finished.We see also the victorious salvation of the cross. "He hath suffered for sin, the just for the unjust, that He might bring us to God." Sin separates us from a Holy God. The cross reconciles us a Holy God. Adrian Rogers says, "On that cross, Jesus took Holy God with one hand, sinful man with the other hand and by the blood of His cross, He hath reconciled God and man."God has a way of bringing us back."Oh, the love that thought it; oh the grace that brought it."Apply it to your lifeDo you believe in the cross of Jesus Christ? The vicarious suffering, the vital satisfaction, the victorious salvation? Thank God for the sacrifice He made through Jesus Christ to bring us back to Him.
Recent Broadcasts
Featured Offer from Love Worth Finding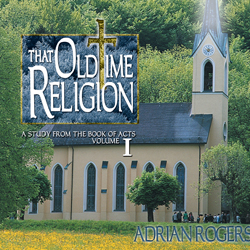 That Old Time Religion Series
In this 2-volume study from the book of Acts, Adrian Rogers uses the early church to teach about that "old time religion". Indeed, the first disciples turned the world upside down for Jesus Christ through the power of the Holy Spirit. That same power is available to you today.