Messianic Vision
with Sid Roth
Georg Karl
Monday, May 25, 2020
Georg Karl reminds us Jesus became a son of man outside of the Glory so that we can become sons of God within the Glory. Find out what that means now!
Recent Broadcasts
Featured Offer from Messianic Vision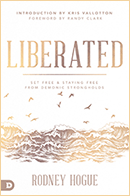 Liberated and Beyond (Book & 3-CD Set)
>>  Rodney Hogue was a pastor with a demon. >> Demonic presence is often overlooked as merely a bad habit or something that "runs in the family." Rodney Hogue says you can live with moods, negativity and more—or you can press the reset button.