New Life Live!
with Steve Arterburn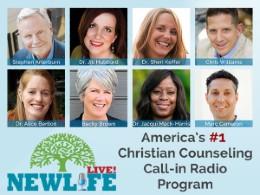 New Life Live: April 8, 2021
Thursday, April 8, 2021
Hosts: Dr. Jill Hubbard, Milan Yerkovich, Chris Williams Caller Questions: - My 20yo son was diagnosed with schizophrenia; did his marijuana use at 13yo cause this? - How do I help my mom grieve the loss of my 38yo nephew from a motorcycle accident? - My alcoholic husband has been a dry drunk for the last 5yrs; how do I forgive his abuse? - After my wife filed for divorce, how do I handle my narcissistic mom who wants more time with me? 
Recent Broadcasts
Featured Offer from New Life Live!

"Creatures of Habit" by Steve Poe
Creatures of Habit reveals how to remove bad habits and replace them with godly ones.  It's not a matter of working hard or "pulling yourself up by your bootstrap."  True transformation is God's work; our job is to listen, obey, and put into practice what He's already directing us to do. Steve Poe has pastored large, growing churches for more than 34 years, and he's seen that poor choices often become bad habits that cause people a lot of problems. What is so powerful about this book is that it focuses on the deeper habits beneath the habits we see on the surface. If you or someone you love struggles with anger, lust, worry, cynicism, pride, self-centeredness or greed, this book will provide great insight and help.