New Life Live!
with Steve Arterburn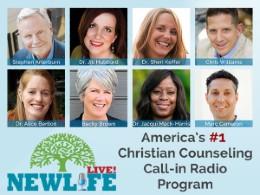 New Life Live: January 13, 2021
Wednesday, January 13, 2021
Hosts: Steve Arterburn, Dr. Sheri Keffer, Dr. Alice Benton, Becky Brown Caller Questions: - No one can build you up like your wife; I feel like Superman when she talks positively about me! - How do I help my kids work through the abuse we have been through? - I was a whistleblower and was threatened at my ministry job; what can I do with my anxiety? - Comment: When you talked about cremation in the Bible, you didn't refer to the dictionary definition. - Do you have to get all of your dissociative identities together before you can believe in Jesus? 
Recent Broadcasts
Featured Offer from New Life Live!
The Twelve Gifts of Life Recovery
The path to wholeness is never one you have to walk alone. God sees you and is by your side as you follow The Twelve Steps of Life Recovery, and he has special gifts in store for you along the way—even when the journey is filled with turns and twists. From the creators of the bestselling Life Recovery series, The Twelve Gifts of Life Recovery illuminates the gifts God holds for you as you travel through the Twelve Steps. With expert insight and biblical truth, recovery pioneers Stephen Arterburn and David Stoop explore the blessings God offers to those who seek him. Recovery isn't just about giving up an addiction or dependency; it's about receiving something better: gifts from God for those courageous souls willing to do whatever it takes to change. An encouragement both to those in the recovery process as well as to the loved ones walking beside them, The Twelve Gifts of Life Recovery is an inspiration and an invitation to move step by step into a new, fruitful future.