New Life Live!
with Steve Arterburn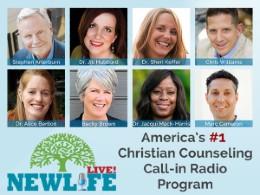 New Life Live: June 18, 2019
Tuesday, June 18, 2019
Hosts: Steve Arterburn, Dr. Dave Stoop, Dr. Jill Hubbard Caller Questions: -My 33yo daughter lies, screams, swears and wants revenge on me; how can I address her hurts? -I have been sober since attending the Healing is a Choice workshop in 2010! -I've always been joyful and now find myself very depressed and scared; can it be the meds? -How do I work on my insecurity and victim mentality due to my progressive physical disabilities? 
Recent Broadcasts
Featured Offer from New Life Live!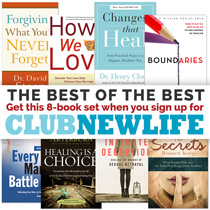 Club New Life
When you join Club New Life, we'll send you The Best of the Best, an 8-book set of our most popular books. The books included are: How We Love, Changes the Heal, Boundaries, Healing is a Choice, Intimate Deception, Forgiving What you Never Forget, Every Man's Battle and Secrets Women Keep. For more information about these gifts, visit our website at newlife.com. If you are already a Club New Life member, this can be yours when you increase your monthly giving by $10 or more.