New Life Live!
with Steve Arterburn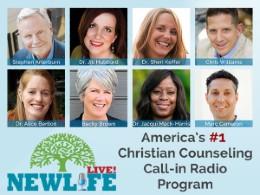 New Life Live: June 25, 2019
Tuesday, June 25, 2019
Hosts: Steve Arterburn, Dr. John Townsend Caller Questions: - Shall I just walk out on my marriage since I don't trust my husband and his porn viewing? - Why would my wife divorce me over an emotional affair I had 11yrs ago? - A woman attached herself to my husband and then to me after he died; what boundary can I put in place? - How can I relate better to my wife who was raised by her abusive grandmother? 
Recent Broadcasts
Featured Offer from New Life Live!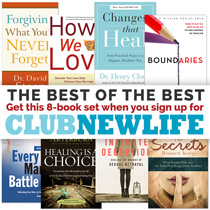 Club New Life
When you join Club New Life, we'll send you The Best of the Best, an 8-book set of our most popular books. The books included are: How We Love, Changes the Heal, Boundaries, Healing is a Choice, Intimate Deception, Forgiving What you Never Forget, Every Man's Battle and Secrets Women Keep. For more information about these gifts, visit our website at newlife.com. If you are already a Club New Life member, this can be yours when you increase your monthly giving by $10 or more.