New Life Live!
with Steve Arterburn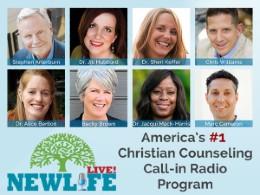 New Life Live: May 21, 2019
Tuesday, May 21, 2019
Hosts: Steve Arterburn, Milan Yerkovich, Chris Williams Caller Questions: - How do I help my friend who is angry at himself after his wife left him? - I caught my husband with porn 2yrs ago and now I don't trust him with our handicapped daughter. - After listening to the Codependency CD, what is my next step to deal with my husband using drugs? - How do I get God's forgiveness for my two affairs? My wife already forgave me. - My husband is in his late 60's and says he can't help looking at other women; is that true? - What can I do for my young adult sons who live at home and admitted to porn? 
Recent Broadcasts
Featured Offer from New Life Live!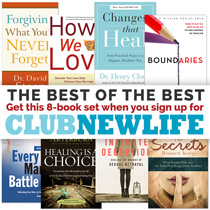 Club New Life
When you join Club New Life, we'll send you The Best of the Best, an 8-book set of our most popular books. The books included are: How We Love, Changes the Heal, Boundaries, Healing is a Choice, Intimate Deception, Forgiving What you Never Forget, Every Man's Battle and Secrets Women Keep. For more information about these gifts, visit our website at newlife.com. If you are already a Club New Life member, this can be yours when you increase your monthly giving by $10 or more.