New Life Live!
with Steve Arterburn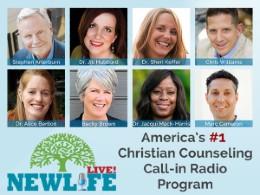 New Life Live: May 23, 2019
Thursday, May 23, 2019
Hosts: Steve Arterburn, Dr. Dave Stoop, Dr. Jill Hubbard Caller Questions: - I am dating a non-believer I can't let go of; is this a procrastination problem? - My ex-husband is a narcissist and serial adulterer and is trying to change; should I believe him? - How do I maintain my marriage after my year-long affair and porn? - My 30yo daughter was molested by her father who later killed himself; how do I help her? - What help can I offer my mom who is a hoarder? - Am I helping or enabling my brother-in-law who is a recovering addict? 
Recent Broadcasts
Featured Offer from New Life Live!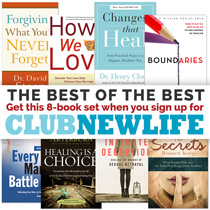 Club New Life
When you join Club New Life, we'll send you The Best of the Best, an 8-book set of our most popular books. The books included are: How We Love, Changes the Heal, Boundaries, Healing is a Choice, Intimate Deception, Forgiving What you Never Forget, Every Man's Battle and Secrets Women Keep. For more information about these gifts, visit our website at newlife.com. If you are already a Club New Life member, this can be yours when you increase your monthly giving by $10 or more.