New Life Live!
with Steve Arterburn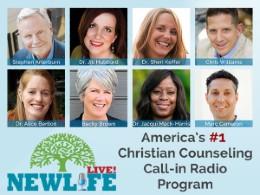 New Life Live: November 14, 2019
Thursday, November 14, 2019
Hosts: Steve Arterburn, Dr. Alice Benton Caller Questions: - Comment to grandparents: Staying involved with your grandkids can make all the difference. - How do I connect with an adult son who is grieving his dad's death and feels suicidal? - What do you think of women becoming surrogate mothers? How does that affect their family? - My 31yo son identifies as gay and turned away from God; what can I do? 
Recent Broadcasts
Featured Offer from New Life Live!
Club New Life
When you join Club New Life, we'll send you a 4-book Daily Devotional bundle. The books included are: 100 Days of Prayer, 100 Days of Healing, 100 Days of Character and 100 Days of Peace. For more information about these gifts, visit our website at newlife.com. If you are already a Club New Life member, this can be yours when you increase your monthly giving by $10 or more.