New Life Live!
with Steve Arterburn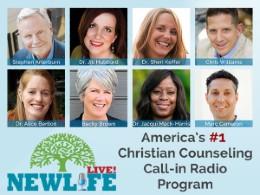 New Life Live: November 8, 2019
Friday, November 8, 2019
Hosts: Steve Arterburn, Milan Yerkovich, Becky Brown Caller Questions: - Am I doing all I can to fight for my marriage? - What can I do about a 20yo daughter who lives at home and is out of control? - A DNA test linked me to a 19yo child I didn't know about; how do I handle with my wife? - I have been married for 3mos; what is the cheapest way to get divorced? 
Recent Broadcasts
Featured Offer from New Life Live!
Club New Life
When you join Club New Life, we'll send you a 4-book Daily Devotional bundle. The books included are: 100 Days of Prayer, 100 Days of Healing, 100 Days of Character and 100 Days of Peace. For more information about these gifts, visit our website at newlife.com. If you are already a Club New Life member, this can be yours when you increase your monthly giving by $10 or more.