New Life Live!
with Steve Arterburn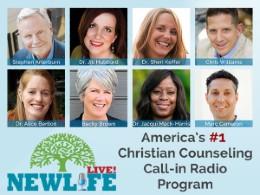 New Life Live: October 14, 2019
Monday, October 14, 2019
Hosts:Larry Sonnenburg, Dr. Alice Benton, Chris Williams Caller Questions:  - Should I allow my meth addict son to live with me or am I enabling him? - New Life Ministries and Every Man's Battle changed me and saved my marriage! - My husband is inappropriate with me, my daughter and now my granddaughter; how do I protect them? - Aren't all people toxic like me? How can I grow? - My wife died from Alzheimer's 15mos ago; why didn't I cry? 
Recent Broadcasts
Featured Offer from New Life Live!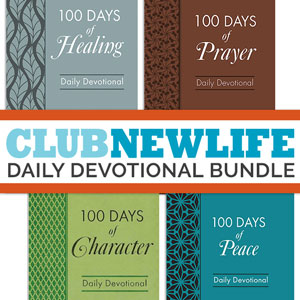 Club New Life
When you join Club New Life, we'll send you a 4-book Daily Devotional bundle. The books included are: 100 Days of Prayer, 100 Days of Healing, 100 Days of Character and 100 Days of Peace. For more information about these gifts, visit our website at newlife.com. If you are already a Club New Life member, this can be yours when you increase your monthly giving by $10 or more.