No Falling Word
with Dr. Liam Goligher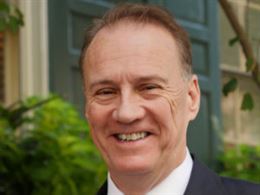 Prophet or Loss? - Part 2
Sunday, August 18, 2019
The wall was about to break.  Its cracks grew larger with each passing day, yet the prophets of Ezekiel's time continued to dab them with mud, and whitewash over them, refusing to believe the wall itself would crumble.  Join Liam Goligher on No Falling Word, as he studies the prophets who cried "peace" as the foundations of their world were falling apart.
Recent Broadcasts
Featured Offer from No Falling Word

Trinity: The Two Natures of Christ
If Christians confuse what is true of Jesus Christ as a human being with what is true of the Eternally Divine Son, they make very serious errors indeed. The most obvious is to conflate the exaltation of the Son of God from all eternity with the welcome given by the Father to the God-Man Christ Jesus, who redeemed God's elect through a sacrificial death. So, in these great teachings, a course correction is long overdue, lest we run out of fuel over water. We must adore Jesus Christ our Lord, both fully Son of Man and fully Son of God.