Rick Renner Radio
with Rick Renner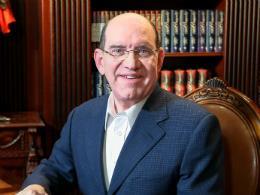 Preparing for the Lord's Next Coming
Friday, December 27, 2019
Two people in Jerusalem had been waiting for the first coming of Jesus, and they lived to see His coming. What should we do as we wait for the Second Coming of Jesus? Will you be alive to see Jesus' next coming? That is the topic of today's program with Rick Renner.
Recent Broadcasts
Featured Offer from Rick Renner Radio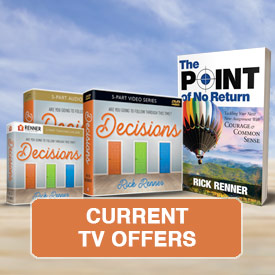 Decisions & The Point of No Return
Decisions - In this five-part series, Rick Renner walks you through important decisions you need to make regarding your diet, fitness, finances, relationships, and your walk with God. These decisions will affect everything else in your life. If you do well in these areas, your whole life will go well. But if you do not do well in these areas, your entire life will be troubled. So making right decisions about these five categories is imperative for you to live a blessed life. | The Point of No Return - In his classic and updated message, The Point of No Return, Rick Renner presents a clear, no-nonsense approach to help you prepare for and carry out each new assignment God gives you in pursuit of His purpose for your life. God's grace is sufficient, and His wisdom will instruct and equip you to do His will. Are you willing to trust Him by stepping out to cross your own personal point of no return?