Rick Renner Radio
with Rick Renner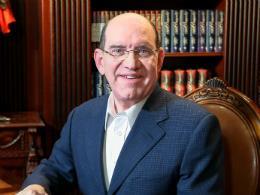 The Depths of Satan Inside the Church
Thursday, October 10, 2019
What are the "depths of Satan" that Jesus speaks about in Revelation chapter 2? You need to know, so join Rick Renner as he opens the Scriptures to you on this subject.
Recent Broadcasts
Featured Offer from Rick Renner Radio
How To Develop Spiritually & Life in the Combat Zone
How To Develop Spiritually - What does it mean to grow up spiritually? God is calling you to grow, mature, and become mighty in your spirit! In Rick Renner's five-part series, How to Develop Spiritually, you'll discover the steps you need to take to move you into the bigger anointing that God wants you to know in your life. You can move into it, but how? That is what Rick answers for you in this series. | Life in the Combat Zone - Rick encourages you to fight like a roman soldier, train like a Greek athlete, and work like a farmer — all to become that unwavering warrior who hears God's voice, surrenders to His call, and willingly enters the combat zone.