Rooting for Rivals
with Blake Mankin
#5 - Churches - Bryan Dunagan
Wednesday, February 20, 2019
Amidst a strong distrust of churches on the rise, Jesus calls us to cling tightly to unity. In this episode, Bryan Dunagan, Senior Pastor of Highland Park Presbyterian Church in Dallas, Texas, takes us on his own personal journey of rejecting competition and choosing to have faith in God's generous provision. Listen in as Bryan shares how he pursues collaboration with churches, leaders, and nonprofits to address the needs of congregants living in a divided city.
Recent Broadcasts
Featured Offer from Rooting for Rivals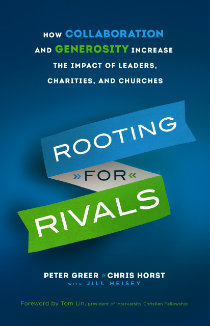 Rooting for Rivals
Rooting for Rivals reveals how your ministry can multiply its impact by cooperating rather than competing with others, modeling Christlike love and generosity in the process. Peter Greer and Chris Horst explore case studies illustrating the power of collaborative ministry. Writing with vulnerability, they also share their own failures and successes in moving toward a Kingdom mindset.