Sound Doctrine
with Jeff Johnson
A New Breed of Missionary Part 2b
Wednesday, February 19, 2020
In Acts thirteen God is sending a new breed of missionaries out into the world, from Antioch.  And we're hearing all about their missionary endeavors, which included Paul's first recorded sermon in a Jewish Synagogue.  In it Paul shares a history lesson, focusing on the one true God, and His divine government!  It's a history lesson from David to Jesus.
Recent Broadcasts
Featured Offer from Sound Doctrine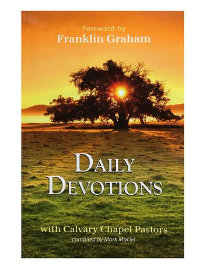 Daily Devotions
This special collections of daily devotions with your Calvary Chapel Pastors will edify you as you read each day of the year. God's Word in these devotions will inspire you. As these Pastors share their hearts and personal experiences of God's faithfulness.