Sound Doctrine
with Jeff Johnson
A Word of Wisdom Part 1b
Friday, March 27, 2020
Before you engage in a certain behavior it's a good idea to first pause and ask yourself… could this potentially stumble another Christian?   And will it build me up?  Pastor Jeff Johnson looks back to the early church, where these very questions rise to the surface.
Recent Broadcasts
Featured Offer from Sound Doctrine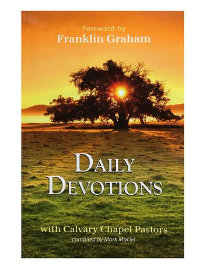 Daily Devotions
This special collections of daily devotions with your Calvary Chapel Pastors will edify you as you read each day of the year. God's Word in these devotions will inspire you. As these Pastors share their hearts and personal experiences of God's faithfulness.