Sound Doctrine
with Jeff Johnson
Being an Acts 2:42 Christian - Episode 1
Friday, July 12, 2019
We've all heard the phrase, "Don't reinvent the wheel." When it comes to how the early church lived, that is especially true. Because embedded in the pages of Scripture Pastor Jeff Johnson gives us a model or blueprint from the Holy Spirit to the path of successful Christian living. It is something, not just for certain superchristians, but for every believer in Jesus Christ. As we put these principles into practice in our lives, we will see the Lord blessing our lives. Take a listen to our first study titled, "Being an Acts 2:42 Christian" with Pastor Jeff Johnson for our time in Sound Doctrine. 
Recent Broadcasts
Featured Offer from Sound Doctrine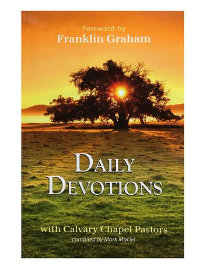 Daily Devotions
This special collections of daily devotions with your Calvary Chapel Pastors will edify you as you read each day of the year. God's Word in these devotions will inspire you. As these Pastors share their hearts and personal experiences of God's faithfulness.