Sound Doctrine
with Jeff Johnson
Characteristics of an Evangelist - Episode 1
Friday, February 22, 2019
When it comes to sharing the Gospel and seeing others coming to know the Lord, besides gifting, why are some more successful at it than others? Pastor Jeff Johnson reminds us of several characteristics that Paul the Apostle exemplified as he devoted his life to the believers at the church in Thessalonica. He then instructs us in those Scriptures that show how we too can be successful in sharing the Gospel with others in our homes, areas of work, and school as well. And as we put those things into practice in line with our gifting, we too will see the Lord bless those times of sharing the Gospel. As we look into the "Characteristics of an Effective Evangelist," let's join Pastor Jeff in 1 Thessalonians 2 for our encouragement in Sound Doctrine.
Recent Broadcasts
Featured Offer from Sound Doctrine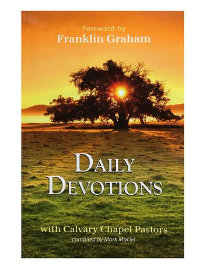 Daily Devotions
This special collections of daily devotions with your Calvary Chapel Pastors will edify you as you read each day of the year. God's Word in these devotions will inspire you. As these Pastors share their hearts and personal experiences of God's faithfulness.