Sound Doctrine
with Jeff Johnson
Discipline Brings Purity and Power - Episode 2
Wednesday, September 11, 2019
The Bible says that the eyes of the Lord run to and fro throughout the whole earth, to show Himself strong on behalf of those whose heart is loyal to Him. As we continue our studies in the book of Acts we see that taking place then and still taking place now. Pastor Jeff shares how God is looking for quality which allows Him to reveal His strength towards them and then He will bring the quantity.  But compromise will always weaken what God wants to do. He is still looking for those who will completely surrender to Him. With our second installment of the study titled, "Discipline Brings Purity and Power," let's join Pastor Jeff in Acts 5 for our time in Sound Doctrine.
Recent Broadcasts
Featured Offer from Sound Doctrine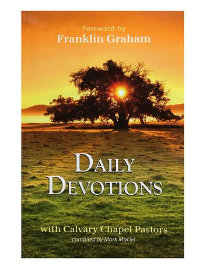 Daily Devotions
This special collections of daily devotions with your Calvary Chapel Pastors will edify you as you read each day of the year. God's Word in these devotions will inspire you. As these Pastors share their hearts and personal experiences of God's faithfulness.