Sound Doctrine
with Jeff Johnson
Elect and Example of the Believer - Part 3
Friday, February 8, 2019
The highway to heaven is paved with many trials. However, as modern Christians enter into trials today they conclude that it must not be God's will for them to experience suffering or challenges. That theology of trials doesn't fit in with modern cultural Christianity. Yet Pastor Jeff says that we don't want to avoid the refining that awaits us as we look to the Lord during those invaluable times. Because many times we learn there truths and lessons we would learn nowhere else. With more on that, let's turn to 1 Thessalonians 1 for our study titled, "Elect and Example of the Believer" with Pastor Jeff Johnson for our time in Sound Doctrine.
Recent Broadcasts
Featured Offer from Sound Doctrine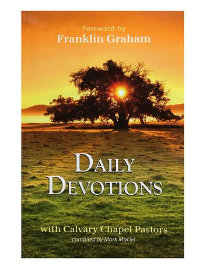 Daily Devotions
This special collections of daily devotions with your Calvary Chapel Pastors will edify you as you read each day of the year. God's Word in these devotions will inspire you. As these Pastors share their hearts and personal experiences of God's faithfulness.