Sound Doctrine
with Jeff Johnson
Encouragement in Suffering - Episode 2
Thursday, April 25, 2019
When it comes to trials no one usually rushes into them. But when they do come, our response to them is telling. As we look at the way in which the church in Thessalonica handled their circumstances, we notice how Paul commends their patience and endurance through trials of persecution. Pastor Jeff reminds us that God wants to actively work through the trials that we experience as well, if we will allow Him.  And as the enemy seeks to weaken us through our trials, we are reminded that we need to run to the Lord and He will work on our behalf. With more on our study titled, "Encouragement in Suffering," let's join Pastor Jeff in 2 Thessalonians 1 for our time in Sound Doctrine.
Recent Broadcasts
Featured Offer from Sound Doctrine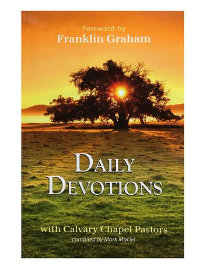 Daily Devotions
This special collections of daily devotions with your Calvary Chapel Pastors will edify you as you read each day of the year. God's Word in these devotions will inspire you. As these Pastors share their hearts and personal experiences of God's faithfulness.