Sound Doctrine
with Jeff Johnson
God's Work of Conversion (Part 1) Episode 2
Friday, November 15, 2019
"Impossible, It'll never happen, anyone but that person." If these are some of the phrases you have heard to describe someone who doesn't know the Lord, take heart. They may be the very person whom the Lord will save one day. And while we might take for granted that Paul the Apostle is one of the most well known saints in the Bible, his story certainly didn't start out that way. Pastor Jeff helps us to see the glorious conversion of Paul was displayed against a pitch black background leading up to that fateful day. And how we need to take heart when it comes to the infamous non-believers in our lives as we pray for them. With more on that, let's join Pastor Jeff in Acts 9.
Recent Broadcasts
Featured Offer from Sound Doctrine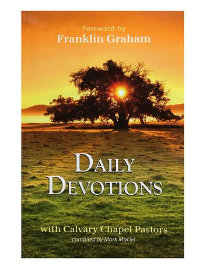 Daily Devotions
This special collections of daily devotions with your Calvary Chapel Pastors will edify you as you read each day of the year. God's Word in these devotions will inspire you. As these Pastors share their hearts and personal experiences of God's faithfulness.