Sound Doctrine
with Jeff Johnson
Good Friday Part 2
Wednesday, April 8, 2020
If you've ever been involved in a long-term project... whether it be the restoration of a car, a building project, or a craft of some sort, you know the satisfaction that comes through finishing what you've set out to do.  Today on Sound Doctrine, we find Jesus fully accomplishing the work that He came to do. 
Recent Broadcasts
Featured Offer from Sound Doctrine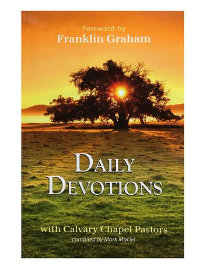 Daily Devotions
This special collections of daily devotions with your Calvary Chapel Pastors will edify you as you read each day of the year. God's Word in these devotions will inspire you. As these Pastors share their hearts and personal experiences of God's faithfulness.